Lamborghini 2004-2009 without navigation ipod interface Dice I-Audi-R
I-Audi-R
Lamborghini 2004-2009 without navigation iPod interface Dice I-Audi-R
Factory iPod integration for Lamborghini! This hardwired connection offers the highest sound quality possible, features great browsing features through your head unit, text display and charging!


Product Description
The Dice iPod integration kit is a vehicle specific adapter. This is a complete integration kit that includes everything needed to connect your iPod to your vehicle's factory radio system: Plug and play harnesses, an adapter module and an Apple, Inc. approved iPod docking cable. Please check vehicle compatibility below, use the vehicle filter above, or feel free to call one of our friendly sales representatives to see which kit is right for you.
Features:
Line level audio output, smart browsing features from head unit/steering wheel controls (when available), displays song/artist/album/playlist on screen of radio (if Cd text display compatible), charges all iPod models (12V/5V), fully tested and approved by Apple, Inc.

Compatible iPod models:
iPod 5th Generation Video, iPod 1st Generation nano, iPod 2nd Generation nano, iPod 3rd Generation nano, iPod Touch 1st generation, iPod Classic 80/160/120 GB, iPod 4th Generation nano, iPod Touch 2nd Generation.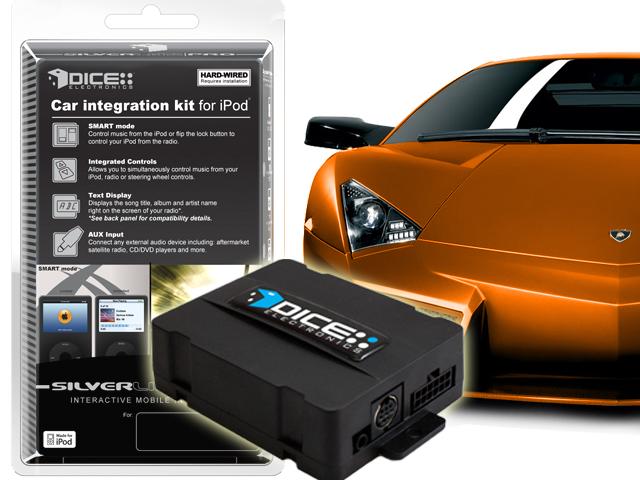 Compatibility vehicles



2004-2009

LAMBORGHINI Gallardo (without navigation)


Note: 1-External CD changer, if present, must be disconnected
Note: All - No text supported
Note: All - 2006 and newer models, if glove box is prewired for an external CD changer,
*If you have navigation radio used
I-VW-R
LAMBORGHINI GAL

LARDO 2004-2009 (with navigation)
For more information call
1-888-231-0395

Free Standard Shipping to Contiguous U.S.
Combine Your Purchase With
---