Dension Mercedes Benz 1999-2004 iPod Auxiliary Input Adapter GWL1DB1
GWL1DB1
Product Description
Gateway Lite is a new, simple to use interface that will be the standard entry level product for both iPod and USB integration in cars which cannot support text.

No menu structure to remember or complex operations to perform, just plug in the iPod or USB and select CD6. Music is now played through the car audio system.

Gateway Lite can accommodate iPod (with a dock cable or cradle) or USB, but to keep selection easy, there is no facility to switch between them. Whichever device was plugged in last is the one that will play.

Control of the iPod is from the click wheel and all functions will operate as normal, however the skip buttons on your radio (or steering wheel) can be used to move forward and backwards through your tracks. The device will also charge while it is plugged in to the Gateway Lite. If your USB device has a folder structure, or playlists, these can be accessed by selecting the corresponding CD number on your changer controls, up to the number of CD's your changer control is capable of handling, i.e.CD1 will play folder 1,CD2 will play folder 2 etc.
Product Features
Full iPod Control and charging.
Connect and control a USB storage device.
Control USB folders using CDC controls.
Vehicles with a factory CD changer require the

FOA2DB2

USB media device must be formatted to FAT32 file system.

Factory CD-changer must be disconnected.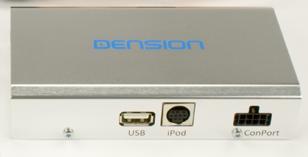 Vehicle Application


1999-2004 Mercedes C Class
1999-2004 Mercedes CL Class
1999-2004 Mercedes CLK Class
1999-2002 Mercedes E Class
1999-2004 Mercedes M Class
1999-2003 Mercedes S Class
2000-2004 Mercedes SL Class
1999-2004 Mercedes SLK Class


Vehicle Specific Mercedes Notes
2003 Mercedes S Class

-

Not compatible with Command system.
For more information call 1-800-727-1466
NOT IN STOCK
---