FRD04-AUX Ford interface
FRD04-AUX
Ford Auxiliary Interface kit FRD04-AUX
PIE FRD04-AUX Adapter Ford CAN-BUS Radios
Ford Mp3 AUX input converter, Fits Ford Radios with AUX button 04 and up Ford F150 audio input Mustang aux input The FRD04-AUX interface connects to the back of the Ford Radio and converts the RSE port in to an audio input port creating a new audio input source,aux for radios with Aux button, This interface lets you input audio from any portable source like Mp3, DVD player, iPod iPhone, satellite radio, or just about any external audio device. By converting the Ford rear DVD plug on the factory radio into an auxiliary audio input, anything can be added to the Ford radio without Fm modulation this is not a wireless transmitter or FM modulator...that means the signal isn't getting degraded by the process of sending it to your Ford radio, Radios must have an Aux button no compatible with Stereos with SAT button, works with single CD player in dash 6 CD-changer and MP3 Ford radio AAI-FRD04 and frd04aux are the same part FRD04-AUX has a built-in audio adjustment gain control input of 0.475 volts to 4.75 volts (peak to peak) allowing you to match the audio level of the Aux device to your radio and CD player
2007-2010 Ford Edge
2007-2010 Ford Expedition
2006-2010 Ford Explorer
2004-2010 Ford F-150 aux input
2005-2010 Ford F-250
2005-2009 Ford F-350
2005-2009 Ford F-550
2005-2010 Ford Focus
2005-2009 Ford Freestyle
2006-2009 Ford Fusion
2005-2010 Ford Mustang aux input
2007-2009 Ford Sport Trac
2005- 2008 Ford Five hundred
2008 2009 Ford Taurus/ Sable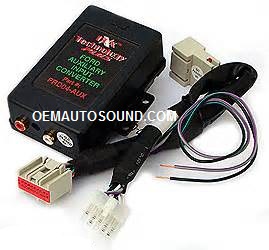 Does not disable the in dash CD-changer or any other functions on the Ford radio.
Not compatible if vehicle is equipped with both factory Rear Seat Entertainment system, or factory satellite, one needs to be unplug to use the aux input.

If vehicle comes with satellite radio and DVD, one needs to be unplug
Vehicle specific information:
Not compatible with factory satellite unplug satellite radio to use FRD04-AUX or use 3 input aux X3-FRD/P2
Not compatible with factory RSE (Rear Seat Entertainment) present. Takes place of RSE.
Connects to 16-pin connector at head unit.
FRD04-AUX 1 year Warranty. 30-days full refund In stock
Interface is the new version Buy from an authorized PIE dealer.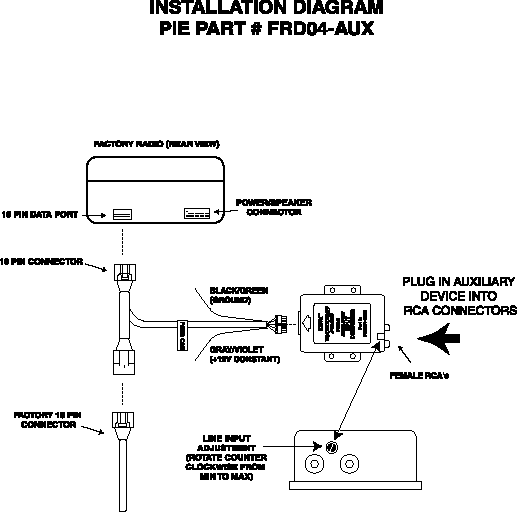 For tech support contact us 1-407-9331065




Combine Your Purchase With
---
Showing comments 1-2 of 2