Oldsmobile Pontiac Saab 2003-2008 Audio input Interface
GM535
Oldsmobile Pontiac Saab Audio input Interface 2003-2008



Oldsmobile Pontiac Saab Auxiliary Input Interface.
This auxiliary adapter allows you to connect any iPod/iPhone, Mp3, smartphone, or satellite
radio to your factory GM Chevrolet radio. W
orks for any portable audio device,
Expand your
factory radio by adding virtually any audio source. This interface is a revolutionary solution
designed to connect new audio source to the factory installed Oldsmobile Pontiac radio. in
many automobiles. The interface allows you to connect up to two additional audio source
and feeds theaudio directly into the radio while retaining the factory installed satellite radio
CD changer and rear DVD.The audio interface creates an unmatched listening experience
by combining the audio have with the freedom and individuality that only comes from your
factory GM radio clear sound digital audio because this is not an FM transmitter or wireless
device.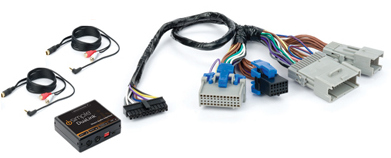 Oldsmobile


2003-2008 Bravada
2003-2004 Silhouette

Pontiac


2003-2004 Aztek
2004-2005 Grand Am
2005 Montana

Saab


2008 9-7x
Instruction Manual Link(s)
For more information call 1-800-727-1466
Combine Your Purchase With
---