DICE IPOD LEXUS INTERGRATION
Take Your Digital Music Library On the Road...
Connect your iPod to your LEXUS factory entertainment system and hear what your iPod should sound
like inyour car . CD-quality sound and controls from your radio, steering wheel or the iPod. Always keeps
your iPod charged and ready to go. Radios supporting CD-text will also display text from your iPod allowing
you to view song title and artist name right on your radio's display.
Controls from radio, steering wheel and iPod.
CD-quality audio (depends on MP3 bitrate)
Browse music by song, playlist, album and chapter
Features an AUX input to allow connection of aftermarket satellite radio, non Apple MP3 players more
Keeps iPod charged
Comes standard with a "docking cable"
Optional cradle with video out available soon
Selecting between audio from your iPod or AUX input is done with the press of a button on your radio.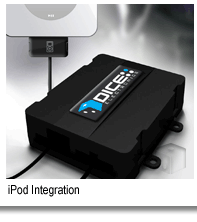 IS 250/300/350

ES 300/330

GS 300/430

RX 300/330/400

LX 430

LX470

00-06

00-06

00-06

00-07

00-06

00-06
Compatible limitation may to navigation and 6CD in-dash system