Toyota iPhone Interface PA15-TOY
PA15-TOY
Toyota Scion iPod Interface Adapter
USA Spec PA15-TOY Toyota iPod input interface adapter, full iPod controls from Toyota radio and steering wheel controls. The adapter will also allow you to display all the iPod text on the Toyota radio screen. Works with all Toyota radios from 1998 and up radio needs to have a CD disc or Sat button. Let you control charge and play your iPod through the Oem Toyota radio receiver

you can also add a second device using the

auxiliary audio input. This Toyota iPod interface will work with all iPod's/iPhone's. It also, allows you to stream music from internet services support Pandora, Livio radio, i-Heart radio and Sirius AM apps!
Camry Avalon Corolla Tacoma Sienna Sequoia
.
Connect, control, and charge your iPod, iPhone, and iTouch from your car stereo.
Works with and charges iPhone (3G, 3G's, 4, 4's), iPod Classic & Nano, and iTouch.

Compatible with iOS 5.

Control from radio or steering wheel.
Displays song title, artist name, and playlist name on most radios that have a TEXT, TITLE, or SAT button.
Retains CD-changer, Rear Seat Entertainment/DVD, and Satellite radio functions and features.
Connects an iPod directly to your Toyota audio system with the following benefits: Connects iPod's (includes iTouch and iPhone) audio output directly to Toyota audio system for optimal sound quality. Playback allows for the playing of music stream such as Pandora from iPhone or iTouch. Displays artist names and song title on radios equipped with Text or Title button .Retains factory satellite receiver. Offers two ways to access iPod music, namely, Direct Mode and Playlist Mode. Charges iPod, iPhone, and iTouch while playing. 5 volts USB Connects Satellite receiver DVD audio, or other audio source to car audio system through Aux input jack. Maintains current playlist, podcast, or Audio book position when switching from portable to in car use. Compatible with iOS 4.Controls from Toyota radio and steering wheel controls you can use direct mode to listen to Pandora.
Toyota Applications:

1998-2009 Toyota 4Runner

1998-2011 Toyota Avalon

1998-2011 Toyota Camry (not XM)

1998-2011 Toyota Corolla

1998-2009 Toyota Echo

2006-2011 Toyota FJ Cruiser

2001-2011 Toyota Highlander

1998-2009 Toyota Land cruiser *

2005-2011 Toyota Matrix

1998-2006 Toyota MR2, Celica

2004-2009 Toyota Prius

1998-2011 Toyota RAV4

1998-2011 Toyota Sequoia Tundra

1998-2011 Toyota Sienna *

1998-2011 Toyota Tacoma

2007-2010 Toyota Yaris

2009-2011 Toyota Venza
Scion


2004-2008 Scion XA,XB *


2005-2008 Scion TC *
Please Note :

Toyota radio with text button or Mp3 sat ready will display text most 2004 and up are text ready.

1998-2002 Toyota Sienna requires an additional CAS-TLC Cable in order to retain steering wheel control functions.

2011-2007 Toyota Land Cruiser requires on addition CAS-TL cable.


We Recommend the USA SPEC PA20- TOY for newer Factory Nav Toyota Lexus Radios

Adds additional on screen display and control functions on newer Toyota Lexus Radios, Newer Nav Radios can be idenitified as those that have Mp3 capability or those you can see MP3 logo on the Toyota Radio face.
Toyota aux input interface for audio input only.

USA Spec pa15-toy Toyota iPod interface User manual
For more information call
800-727-1466

Combine Your Purchase With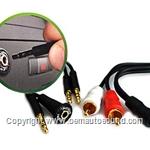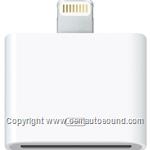 ---
Showing comments 1-2 of 2