Chevrolet Auxiliary interface GM12-AUX
GM12-AUX
Chevrolet Gm 2003-2012 Audio Input Interface GM12-AUXv2


PIE GM12-AUX Auxiliary Audio Input adapter for GM Chevrolet Radios. This
auxiliary input adapter is designed to convert
the XM port of the Chevrolet GM Original Radio with external controls into auxiliary input. Devices such
as iPod iPhone, XM Satellite Radio, Mp3, Smart phones, or any portable audio devices
can be added to the Chevrolet Oem radio without
FM modulation or FM transmitters. Dpx technology
maintains full function of all factory built-in
steering wheel and rear seat control, If using and iPhone or smart phone you can also stream music from internet services live Pandora, Livio radio, or online XM Sirius. Direct connection to your vehicle's stereo will give you the best possible sound quality.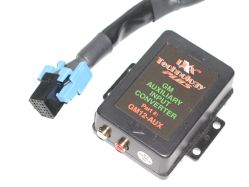 Radio Must have XM satellite controls, BAND button, Not compatible with the AM/FM button

The gm12-aux will take the space of the XM tuner radio will need to have the XM unit disconnected
12-Pin connector on the back side of the factory GM radio.
XM needs to be unplugged
2003-2006 Chevrolet Avalanche

2003-2005 Chevrolet Blazer

2003-2005 Chevrolet Cavalier

2004-2011 Chevrolet Colorado

2005-2008 Chevrolet Corvette

2003-2005 Chevrolet Express van

2003-2005 Chevrolet Impala

2003-2006 Chevrolet Lumina

2002-2003 Chevrolet Malibu Max

2003-2005 Chevrolet monte carlo

2003-2006 Chevrolet ck truck

2003-2006

Chevrolet

Silverado

2007

Chevrolet

Silverado classic

2003-2006

Chevrolet

Suburban

2003-2006 Chevrolet Tahoe

2003-2008

Chevrolet

Trail blazer with Band button only

2005-2007

Chevrolet

Uplander

2003-2005

Chevrolet

Venture

2003-2005

Chevrolet

S10 Truck





GMC


2003-2006

GMC

Sierra Denali

2003-2006

GMC

Yukon/ Denali/ XL





R

adios Must have CD /AUX and BAND button.

For more information, call

1-407-9331065

sales@

oemautosound


In stock

---