Acura Honda Auxiliary HON03-AUX
HON03-AUX
Acura Honda Input Adapter HON03-AUX

HON03-AUX Honda auxiliary input Interface, Honda aux this interface provides a new audio input source to the Honda factory car Stereo. Honda Radios need to have an AUX XM or SAT button to input audio into the radio as an auxiliary audio input converter, the AAI-Hon03 allows you to plug in an external audio source to the Honda radio, like a portable Mp3 player, iPod iPhone, satellite tuner, DVD player or any portable audio source. Installation is simple one end of the plug and interface connects into the rear plug on the Honda Radio in the other end of the interface you can plug RCA jacks to 3.5mm jack or use our Dash mount aux jack works with Honda XM tuner or CD-changer. Auxiliary RCA audio input, for select 2003-2011 Honda vehicles. Hon03-Aux.

This adapter is made to work on Honda and Acura Radios only, Not universal, This is not an FM trasmiter
Honda Radio must have an external CD-changer or satellite capabilities, Aux XM or SAT button.

Compatible with factory external Honda CD-changer and in dash CD-changer.

Compatible with factory navigation radios.

Compatible with factory RSE (Rear Seat Entertainment) present, rear Honda DVD.

Compatible with factory Honda satellite radio.

Hon03-Aux Connects to 14-pin (White) connector on the head unit.

The PIE HON03 comes with a 'Y' harness specifically designed to provide a navigation pass-through on many '03-'09 Acura and Honda vehicles, making it possible to add the aux interface, this Y harness allows you to also keep the external rear DVD and Satellite XM Radio



Note:

The PIE HON03-Aux can work in one of two modes (depending on what the factory radio is capable of) providing greater flexibility and vehicle coverage. The HON03-Aux can be configured to work in either mode (external Cd changer or satellite), allowing retention of any existing factory installed accessories such as navigation, rear seat DVD, CD-changer, or satellite radio

.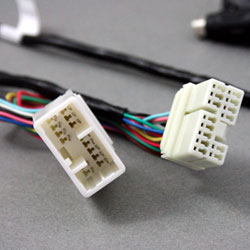 Acura aux input interface

2005-2010 Acura Mdx
2004-2010 Acura RSX
2004-2010 Acura TL
2004-2010 Acura TSX



Honda aux adapter

2003-2011 Honda Accord
2010-2011 Honda Crosstour
2006-2011 Honda Civic Civic Hybrid
2005-2011 Honda CRV CR-V
2003-2010 Honda Element
2007-2010 Honda Fit
2009-2010 Honda Insight
2005-2010 Honda Odyssey
2005-2011 Honda Pilot
2006-2011 Honda Ridge line

2004-2009 Honda S2000
Combine Your Purchase With
---