Lexus Toyota iPhone iPod Android USB interface 03-13 ISTY651
ISTY651
Lexus Scion Toyota iPhone/iPod Android USB interface adapter 2003-2013 ISTY651
Factory Radio Interface for iPod, iPhone or iPad, Android and Other Smartphones for Select 2003-2012 Vehicles
Connect your phone to your car -Wirelessly.
Enjoy hands-free calls.

Charge your device with included USB connection.

Works with smartphones, tablets and media players.

View and control your device from your factory radio.

The next generation of connected car solutions.
Upgrade your car with today's latest technology and best possible sound quality with this premium integration solution.
Enjoy your favorite songs, discover new content with internet radio, and safely manage phone calls, hands-free with a touch of a button. One discrete module hidden in your vehicle seamlessly connects your devices while providing control through your factory radio and steering wheel controls. or sat button. Connect's USB port provides charging and music playback from your smartphone or music playback from a portable USB hard drive or thumb drive.
CONNECT, your phone, your car - wirelessly.
SUSB Connection for Charging and Control of smartphones, tablets, and media players.
Device browsing and control by wired or Bluetooth connection.
Built-in Bluetooth for hands-free calling (HFP) and audio streaming (A2DP.)
Wireless device control using audio video remote Control Profile (AVRCP.)
2.1Amp Charging for iPad and other compatible devices.

Song text (metadata) on factory radio Auxiliary Audio Input.
Radio needs to have a SAT button or AM/SAT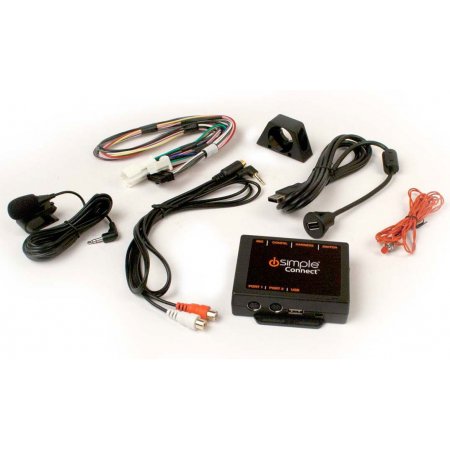 Vehicle Application
Lexus

2004-2006 Lexus ES 300
2004-2006 Lexus ES 330

2007-2009 Lexus ES 350
2006 Lexus GS 300

2007-2009 Lexus GS 350
2006-2007 Lexus GS 430

2007-2008 Lexus GS 450h
2008 Lexus GS 460

2005-2009 Lexus GX 470
2006-2009 Lexus IS 250

2006-2009 Lexus IS 350
2008-2009 Lexus IS F

2005-2006 Lexus LS 430
2007-2009 Lexus LS 460

2007-2008 Lexus LS 600h
2004-2007 Lexus LX 470

2004-2007 Lexus RX 330
2007-2009 Lexus RX 350

2007-2009 Lexus RX 400h
Scion
2005-2009 Scion tC
2004-2007 Scion xA
2004-2008 Scion xB
2007-2008 Scion xD
Toyota
2007-2008 Toyota 4 Runner
2010-2012 Toyota 4 Runner
2007-2012 Toyota Avalon
2007-2012 Toyota Camry
2007 Toyota Camry Solara
2009-2012 Toyota Corolla
2007-2010 Toyota FJ Cruiser
2007-2012 Toyota Highlander
2007 Toyota Land Cruiser
2007-2012 Toyota Matrix
2007-2012 Toyota Prius
2007-2012 Toyota Rav4

2007-2012 Toyota Sequoia
2007-2012 Toyota Sienna
2007-2012 Toyota Tacoma
2007-2012 Toyota Tundra
2009-2012 Toyota Venza
2009-2012 Toyota Yaris


For More Information Call 407-933-1065
Combine Your Purchase With
---
Showing comments 1-2 of 2