MAZ/PC-ALP Mazda 2001-2006 Auxiliary input adapter
MAZ/PC-ALP
Pie MAZ/PC-ALP Mazda 2001 2006 Auxiliary input adapter
This MAZ/PC-ALP adapter by Precision Interface Electronics is designed to convert the CD-changer port on the rear of select Mazda Oem radios (with CD-changer controls) into an Alpine M-Bus CD-changer female connector. This allows you to connect any of the following M-Bus style Alpine CD-changers.
2003-2006 Mazda to Alpine/Auxiliary Audio Input (Use with Pie PART # ALP/M-RCA for Auxiliary Audio Input)
Connects to Factory 16-Pin at Headunit.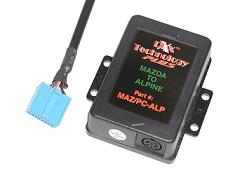 2004-2006 Mazda 3
2001-2003 Mazda Protege
2001-2003 Mazda Protege 5
2004-2006 Mazda RX8
2003-2006 Mazda Tribute
2002-2006 Mazda Miata
2002-2006 Mazda MPV
*Requires radio firmware ver.9.55 or greater press and hold "Text" button, while holding
"Text" press and hold "Preset#1" For a few second until version # appears on display

.
For more information call 1-407-933-1065
Combine Your Purchase With
---