Honda Auxiliary Input PIE HON-AUX
HON-AUX
PIE Acura Honda Auxiliary audio Input 1992 to 2001 HON-AUX
The

Pie Hon-Aux

Auxiliary Input Converter connects to the CD-changer data port of the Honda Acura
radio to create an external auxiliary input that has a pair of left and right RCA audio inputs (see
specific vehicle applications below.) With this converter installed, you can connect any external
audio device that has an audio output directly to your Acura Honda radio without using an
FM modulator
and hear clear digital audio from your factory sound system. works for any iPod iPhone MP3 satellite radio and any portable audio device
Compatibility Information: Plugs into the rear of the factory radio.
Factory radio must have an 8-pin round connector socket at the rear of the radio.
Not compatible the vehicles with factory navigation systems., in-dash 6-disc.
FITS Acura
1992-2001 Acura Integra
1992-1995 Acura Legend
1996-2001 Acura RL
1995-1998 Acura TL
1992-1994 Acura Vigor Honda
1992-1997 Honda Accord
1992-1998 Honda Civic
1997-1998 Honda CRV
1993-1997 Honda Del Sol
1995-1998 Honda Odyssey
1992-1998 Honda Prelude
External CD-changer must be unplugged.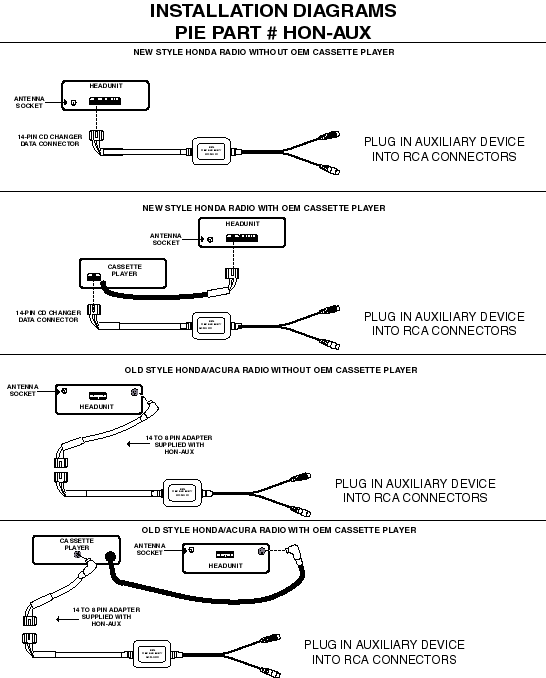 For more information call 1-407-933-1065 In stock
Live Chat Software
Combine Your Purchase With
---