Buick Cadillac Isuzu 2003-2008 Auxiliary Interface AAI-GM12
AAI-GM12
Auxiliary Input Interface for Buick Isuzu 2003-2008

The AAI-GM12 allows direct interface of any preamp level audio source to a Buick factory
radio, eliminating the need for sound degrading solutions like an FM modulator. The
AAI-GM12 interface inputs sources from units such as a DVD, MP3, Satellite Radio or
PlayStation.
Requirements: 2003-2008 SUV's and trucks with a RDS or Navigation radio.The SUV or truck
must have a factory XM receiver ,Factory DVD rear seat Entertainment (RSE) or factory aftermarket cd changer (factory 6 disc changer built in the radio does not qualify).
• Lower cost and higher quality sound than a FM modulator.
• Perfect for SUV's like Rainier.
• Comes with a three position switch which allows you to switch between two auxiliary inputs and the factory slave unit.
• High quality audio isolation IC eliminates engine noise.
• Internal CMOS electronic switching for long term reliability.
• Completely plug & play. Requires no external wiring.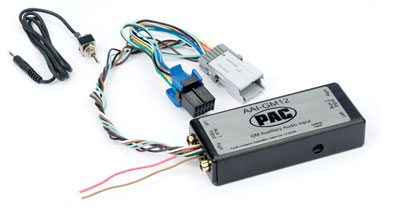 Vehicle compatible:
Buick


2004-2007 Buick Rainier
2003-2007 Buick Rendezvous

Cadillac

2003-2006 Cadillac Escalade

Isuzu
2003-2008 Isuzu Ascender
Notes:
*12-pin data port at head-unit
*Must have factory satellite radio, CD changer or RSE
For More Information Call
1-888-231-0395
Combine Your Purchase With
---